-Beyonce emerged alone in a gust of smoke and SANG for two hours. She had several costume changes designed by Thierry Mugler, most of which were gold sparkly leotards, all form fitting, light reflecting and leg baring.

-Hands down the BEST CONCERT OF SUMMER 09'

My personal highlight of the summer.
-If you havent seen her in concert yet....::you wont understand where I am coming from when I say she is

1

of if not the best artist I have ever seen in my life perform
-Even if you are a typical " I Hate Beyonce Hater" you will even enjoy the show she keeps you on you feet the entire show through the old joints and the ballads
-For the first performance of the night she was joined by Jay-Z.
The married power couple performed a medley of their hits "Crazy in Love" and "I Just Wanna Love U (Give
It 2 Me)."
-The entire GARDEN went crazy if you know Jay he loves New York and when he comes out its "Roc In Here"
-Over all I enjoyed myself like I knew I would this wasnt the first nor will it be the last time I will see Beyonce I'm sorry I am just that addicted to her!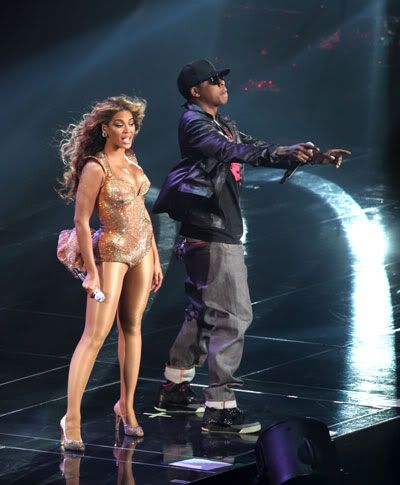 Set List: "Crazy in Love" (featuring Jay-Z) "Naughty Girl" "Freakum Dress" "Get Me Bodied" "Smash Into You" "Ave Maria"/"Angel" (Sarah McLachlan) "Broken-Hearted Girl" "If I Were A Boy"/"You Oughta Know" (Alanis Morissette) "Diva""Radio" "Me, Myself & I""Ego""Hello" "Baby Boy" "Irreplaceable" "Check On It"Destiny's Child Medley ("Bootylicious," "Bug-A-Boo," "Jumpin' Jumpin' ")"Upgrade You" "Video Phone" (dance to track)"Say My Name" "At Last""Listen" "Single Ladies (Put a Ring On It)""Halo"
-signed
"Beyonce does MSG one more time tonight and the next stop on the "I Am" tour is Baltimore, MD on June 23rd."
d a v e